A Short Guide to Equality Risk
Equality, Diversity and Opportunity Management:
Costs, Strategies and Leadership​​​​​​​​​​​​​​​​​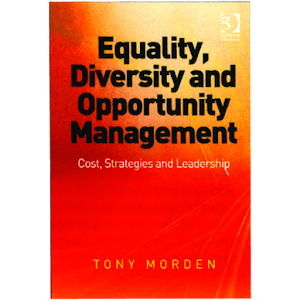 Paperback 978-1-4094-0450-7
ebook PDF 978-1-4094-0451-4
ebook ePUB 978-1-4094-5907-1
.Also available in Kindle Format
Paperback & Hardback
412 Pages
Paperback 978-1- 1382-7263- 7
Hardback 978-1- 4094-3278- 4
ebook PDF 978-1-4094-3279-1
ebook ePUB 978-1-4094-7456-2
.Also available in Kindle Format
HOW TO ORDER AT 35% AUTHOR DISCOUNT
You can order in one of two ways: 
Phone Purchase
Contact BOOKPOINT on 01235 400524 (or +44 1235 400524 from outside the UK).
Select Option Three. Quote the Code POM230 in order to receive your 35% Discount. Pay direct with Debit or Credit Card.
Online Purchase
Both of these Books are available from Routledge via this Website at a 35% AUTHOR DISCOUNT.
Proceed to "Checkout" and insert Code POM230 where requested (middle left of page). You will receive 35% Discount from your direct payment.